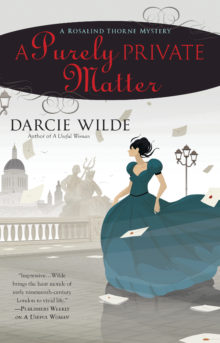 A Purely Private Matter Goes Public Today!
I am so excited to be able to share this exclusive preview for my new Rosalind Thorne mystery: A Purely Private Matter!
This is Rosalind's second outing since turning her reputation as "a useful woman" to good account. Rosalind no longer simply maintains visiting books and assists with guest lists. She makes her way, and manages to maintain her reputation by by helping respectable women out of some less-than-respectable predicaments. This newest puzzle however, may bring all that careful work crashing to the ground.
Check out our exclusive exerpt and order your copy today!